CHILDREN'S CAMP IN THE PERUVIAN AMAZON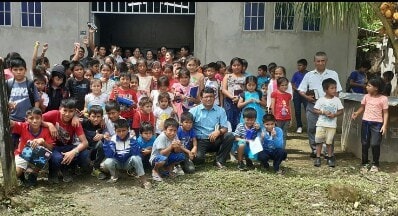 (NCSA Peru) A children's camp was held in the Amazon District of Peru July 12-14, 2019. Zone director of the "E" zone of the district, Rev. Edgardo Roman and his wife Pastor Nancy Romero coordinated the camp with the help of District Superintendent, Rev. Jorge Wamputsag.
The event took place in the Túpac Amaru I Church of the Nazarene, with the help of Pastor Castinaldo Vargas. Reverent Eudo Prado was the preacher for the camp along with his wife, Mary B. Prado. They shared about the great heroes of the Bible, (Moses, Ester, David, and Jesus). The children also participated in a talent night, showing off their different skills.  Pablo Manuel Vasquez Mendoza, zone SDMI president, and Pastor Castinaldo Vargas coordinated the administrative aspects of the camp. Games were led by Pastor Helda Tantalean Saldaña.
This great camp was attended by 98 children and numerous pastors and leaders from the different churches on the zone. It was only possible by the hard work of the congregation that acted as hosts for the camp. Seeing the great blessing from this event, plans are now under way for a new camp with wider reach. God bless all these leaders for their investment in the growth and spiritual development of our children.
Source: Rev. Eudo Prado
Translation: Paul Clark