FLOODS IN PARAGUAY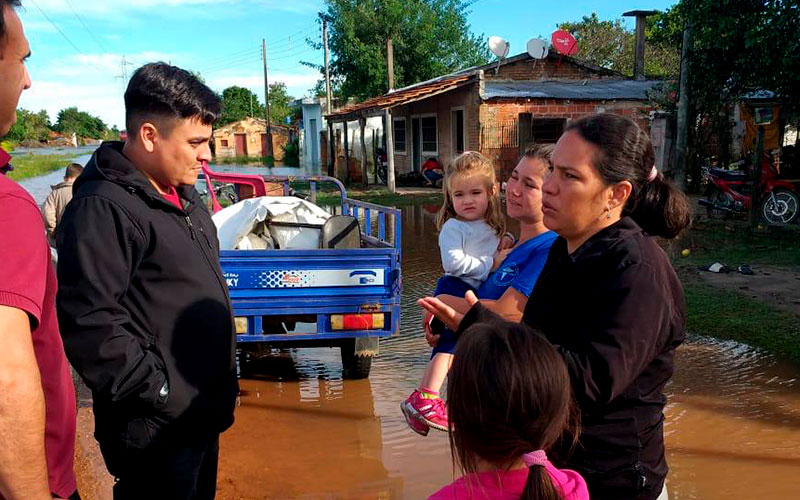 (NCSA Paraguay) Late afternoon on May 9th the Ñeebucú region of Paraguay received a merciless heavy rain that killed nearly 450,000 farm animals and displaced the residents of three neighborhoods. The Churches of the Nazarene in the area were affected by the flooding as well. Both the Church of the Nazarene Isla Umbú pastored by Carlos Romero, and the Desmochado Church pastored by Martin Vazquez were cut off from communication by the emergency.
Several pastors' homes were affected by the flood. One elder member of the San Roque church lost all of her belongings, and another 30 families lost property due to the disaster.
Pastor Carlos Paredes from the Church of the Nazarene in San Roque commented, "It was a matter of seconds before the water had reached our knees." Pastor Silvina Ocampo from the Church of the Nazarene in Desmochado said, "Just now (May 21) the rain has not stopped since 11PM yesterday, they are saying that tomorrow morning things should improve, walls of homes are starting to give way."
The church is working and supporting those who were affected. NCM in Paraguay made a trip on the 11th of May with donated items for the victims. Missionary Yoan Camacaro and District Superintendent Pablo Tello are in charge of the relief effort. Another project has begun called "Ko'e rory" which in the Guarani language means "Happy Dawn." This program will provide kits of food, personal hygiene items, and blankets for the victims who must prepare for the coming winter in Paraguay.
Your prayers are appreciated that the flood waters will recede, for a wall of protection for the city and for the Maximum Mission trip on Sunday the 26th to Pilar, Argentina.
Donations can be made to the relief effort by following the link: https://ps.ncm.org/project/acm1203
Source: NCM Paraguay
Translation: Paul Clark