FORMING A MISSIONARY HEART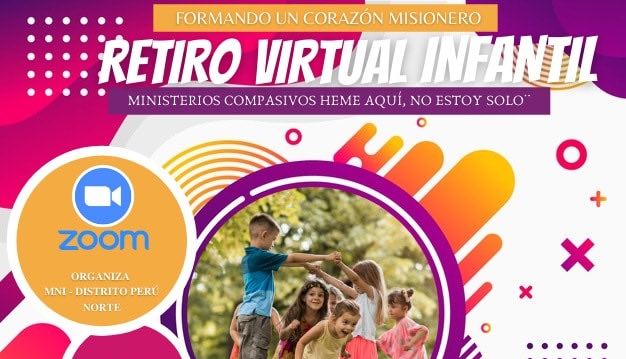 (NCSA Peru) In the middle of the pandemic context, a children's retreat called "Forming a Missionary Heart" was carried out virtually Saturday, February 27th 2021 from 9:00 AM to 1:30 PM. About 180 children from the North Peru district, Cajamarca district, Utcubamba District and North Eastern Mexico District met to participate in four marvelously dynamic workshops. In these workshops, the children had the opportunity to get to know the life and work of missionaries from Ecuador, Peru, Brazil and the USA. They also strengthened their commitment to missions. 
After this event, they will continue to follow all the children from the district which participated in order to continue their missionary development. District leaders, pastors and missionaries will help with their development through cards, literature, special programs, birthday cards and information bulletins, etc. 
Within the NMI Areas of Impact we find, "ENGAGE CHILDREN AND YOUTH through education and fostering calls to missions" which is why the North Peru NMI Council has been hosting this retreat each year since 1999 for children ages 9 to 11. The retreats develop the vision of children in missions, encouraging their participation and making a connection with the missionaries of the Church of the Nazarene. 
"Jesus said, "Let the little children come to me, and do not hinder them." (Matt. 19:14) This verse causes us to reflect on what we are doing and how much we are investing in educating children. As a part of the Lord's Church, children are very important to missions. They are future leaders that will go where the Lord has commanded. Their ability in missions is imperative and we all have the responsibility to help them in this cause: leaders, pastors, Sunday school teachers, and parents alike.
We pray for each child that they would faithfully continue following the call of God through their commitment to missions.
Source: North Peru District NMI
Translation: Andrea Hopster