"FUNERAL EVANGELISM"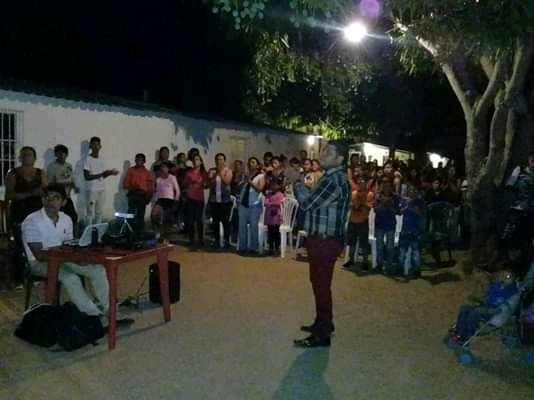 (NCSA Venezuela) Yes, you read that correctly! This type of evangelism is a strategy that is being used to reach many people in the community around the Church of the Nazarene "Valley of Beraca," pastored by Allan Diaz. The church is located in the Chichies neighborhood of the city of Machiques de Perija, Zulia in northwest Venezuela. Pastor Allan is frequently invited to novenas, the nine-day period of mourning when people pass away. This is a tradition in the Roman Catholic Church, during these nine days friends and family seek help for the deceased to quickly meet God.
However, Pastor Allen, who is also the National Evangelism and Jesus Film Coordinator for Venezuela, meets with the families and friends at these gatherings. He uses Jesus Film equipment to show evangelistic videos and movies that speak about Jesus, and he is reaching people who attend the novenas.
God is breaking the categories that people have for God, and removing spiritual blindness, comforting the hearts of those who have suffered loss, and reaching those who need to know the love of Christ in life. These are the results of these evangelistic strategy in the novenas.
When a person has a passionate heart to speak to others about Jesus, the only thing lacking is to take advantage of whatever opportunity might present itself, to place these opportunities in God's hands and obey the command that Jesus gave all his disciples (Matthew 28:19).
Source: Allan Díaz
Translation: Paul Clark