GRADUATION OF DISCIPLES IN MINISTRY, PARAGUAY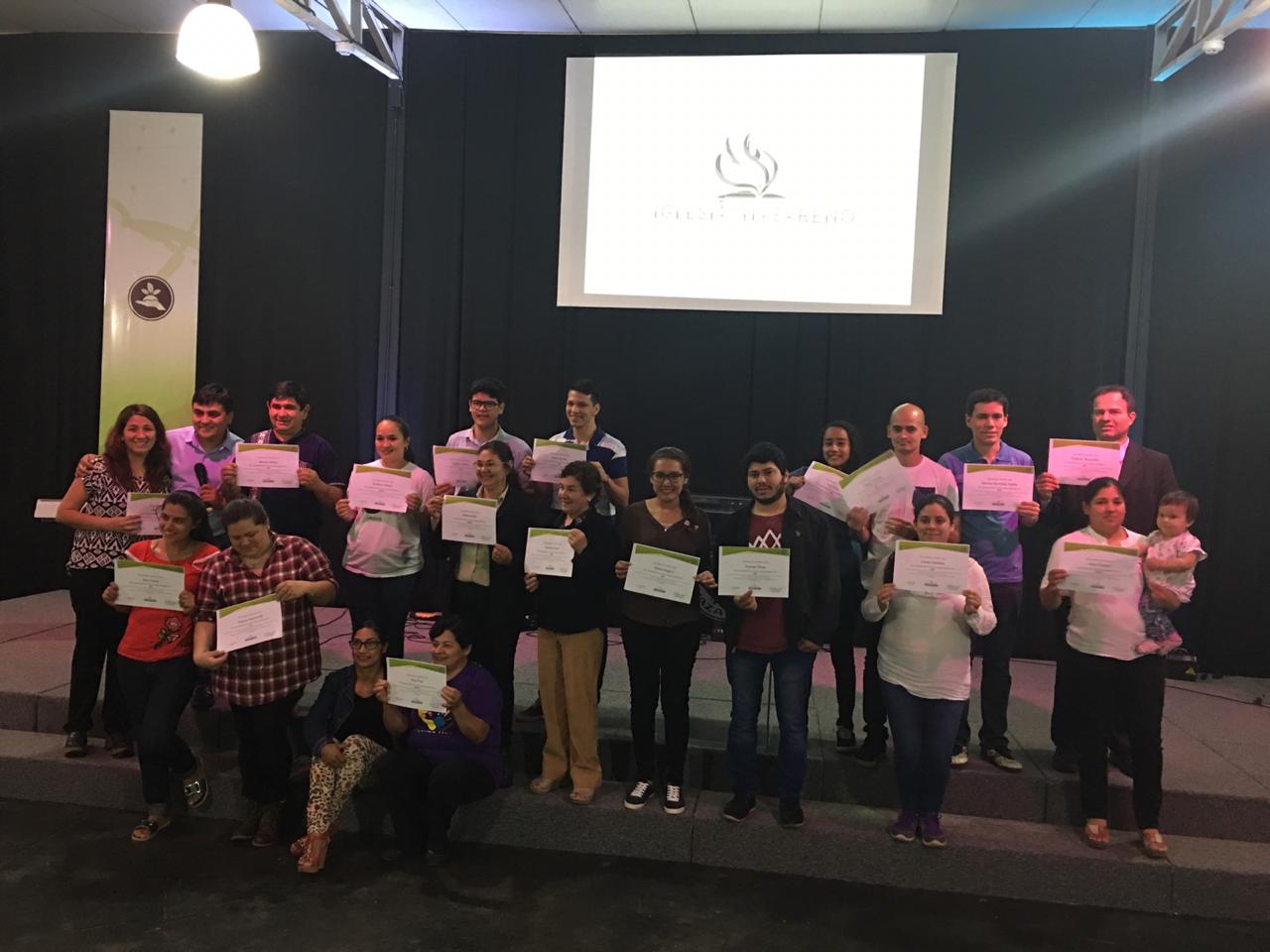 (NCSA Paraguay) Sunday, October 7 a special graduation and installation service was held in Fernando de la Mora, Paraguay for those who have received training in the Disciples in Ministry (DEM) program from the Center of Leadership Development on the Central District.
We are immensely grateful for this second phase of training. Every Sunday, from the month of April through October leaders from different churches have attended faithfully to receive instruction, resources, and tools for ministry in NYI, NMI, and Sunday School and Discipleship Ministries. The national ministry coordinators were in charge of the training in their areas, Pastor Samuel Ferreira (NYI), Pastor Pablo Tello (NMI) and Pastor Viviana Tello (Sunday School and Discipleship Ministries). Dr. Jorge Julca, Regional Coordinator of DEM and Theological Education was present at the service. Dr. Julca offered a challenge to the graduates from the Word of God. Twenty-five certificates were given to leaders of different congregations from the Central District. Many more attended training workshops that were offered as part of the event.
Throughout these months we have been able to testify to the work of God. We have seen how God is raising up people who are available to love God's work and want to invest their lives where God has called them.
All of this has also strengthened the unity and fellowship between the churches on the District. We have enjoyed timed of worship and prayer. It has been a wonderful time that has doubtlessly marked the lives of many.
September 15 participants from NYI, NMI, and Sunday School and Discipleship Ministries took a short-term missions trip to the community of Atyrá, 53 kilometers from Asunción. They visited the Church of the Nazarene in Mbururú, with the purpose of practicing all that had been learned in the previous year through DEM. In the morning the entire NMI team walked through the community doing evangelism. Later in the afternoon they had a "Happy Hour" on the church property, called "Party with Jesus," and led by the Sunday School and Discipleship Ministries and NYI. In the party there were songs, games, a Bible lesson and a snack. Following the children's program, an evangelistic service finished the day. Pastor Samuel Ferreira shared a powerful message from the Bible. Seeing people give their lives to God was the best part of the day. About 40 people attended throughout the day, many more received prayer and made a decision for Christ in their homes. It was a beautiful day, the participants returned tired and satisfied with the day's ministry.
Join in praying for the beautiful Nation of Paraguay. They are writing a new story with these leaders and disciples taking the lead as they follow God's call.
Source: Pablo and Viviana Tello
Translation: Paul Clark