HELP IN THE MIDST OF FLOODING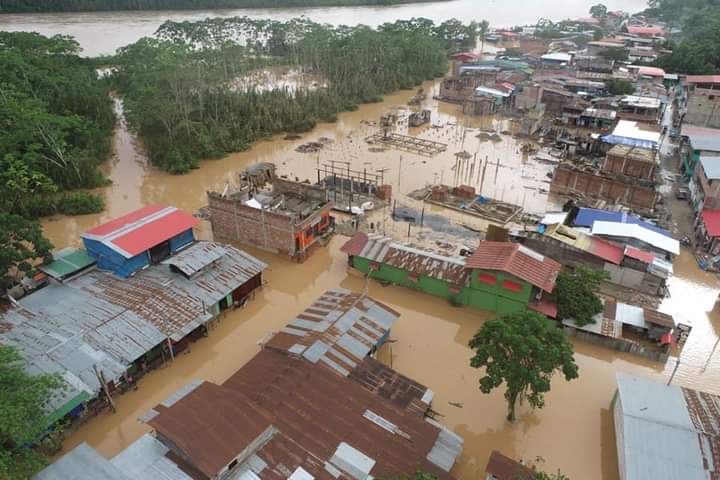 (NCSA Peru) Constant heavy rains in the Madre de Dios region of Peru have caused the overflowing of the Tambopata, Madre de Dios and Inambari rivers, bringing about the flooding of 3627 homes. According to the regional governor of Madre de Dios, of these, 3447 are still without clean water and electricity.
We were able to find out what has taken place via a WhatsApp message sent by Lila Ventura, who oversees a work of the Church of the Nazarene in the center of El Triunfo. Pastor Susana del Aguila, coordinator of NCM in the South Peru district, coordinated with the district superintended tangible help for those affected in the area where the church has impact.
She was able to collect an offering from the churches in the district, as well as collect clothing and food which was distributed by the members of the El Triunfo Church of the Nazarene.
Lili Ventura described that on February 21st, the Madre de Dios river broke its banks and flooded a large part of the populated center of El Triunfo. Many families were trapped in their houses and were eventually rescued by boat. Later they were housed in high schools converted into emergency shelters.
The help that has been given is a joint effort between the local NCM, pastors and leaders of the work in El Triunfo. Around 70 families in El Triunfo are benefitting from the help. Celia Osorio Soto is 40 years old with 6 children and 8 people living in her house, she said that what took place was terrible and unexpected. She felt desperate while she watched her things floating away without being able to do anything. She said, "I took my children and lost my things, my home is a disaster."
Thousands more like her are affected. In many cases, they have lost everything. The Madre de Dios regional authority also reported that the agricultural sector has been severely hit with 791 farming families affected in the three provinces of the region.
Silvia Mantilla Clemente who is 32 years old and the mother of one daughter with 4 living in her house said that when the flooding came, they did not know what to do. Once the flooding reached their home they were not prepared. However, she demonstrated hope, saying "We will overcome everything that has happened and will thank God, that today, we are alive." She also said that in the area where she lives there is no clean water or electricity and the only access road to the area has been destroyed. 
Although there are still many needs like, clothing, bedding, mattresses, mosquito nets, and medicine, Lila has shown optimism saying that they will continue praying that God will touch hearts to continue providing help, not only material need but spiritual as well. She testified: "The help has impacted the lives of the people demonstrating that the Church of the Nazarene cares and is prepared to help in these difficult moments."
Silvia and Celia are so grateful for the brothers and sisters, the church and for the help they have received. Celia said, "I now have a little food to give to my children, thanks to all the brothers and sisters that are supporting us." They also showed hope going forward, "Yes, I have much hope, with the help of God I know that all of us families that have been affected can move forward."
Source: Nazarene Compassionate Ministries
Translation: Andrea Hopster