PERU'S PRESIDENT PARTICIPATES IN A THANKSGIVING SERVICE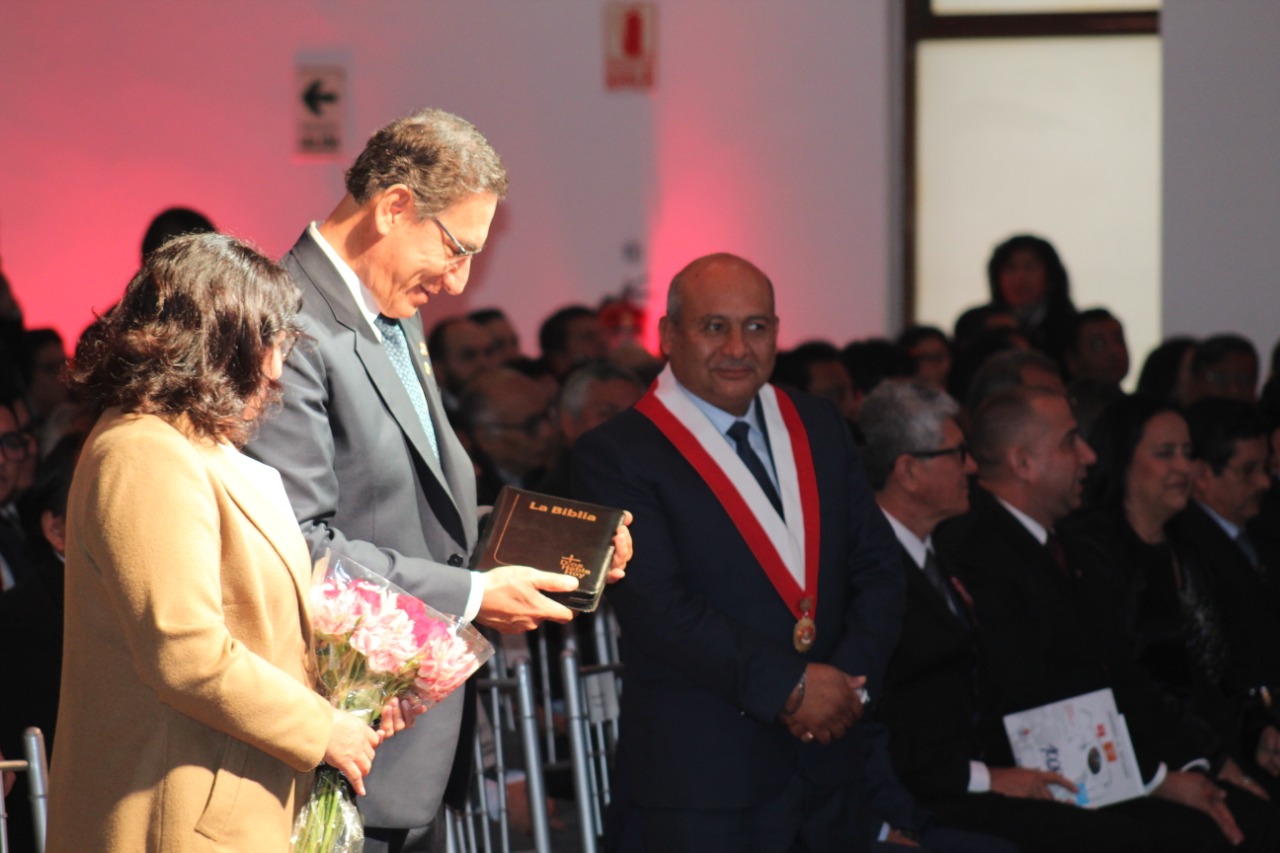 (NCSA Perú) Martin Alberto Vizacarra Cornejo, the President of the Republic of Peru, along with the first lady of the country Maribel Díaz, attended the XIV Ceremony of Thanksgiving for Peru on Monday, July 29, 2019. The service was organized by the Evangelical Churches of Peru. Along with the President, Salvador del Solar Labarthe, the President of the Council of Ministers attended along with several Ministers of the State, members of congress, mayors and other civil, military and religious authorities.
The ceremony was held at the Assemblies of God Convention Center of Peru, located in Pueblo Libre, Lima. The Assemblies of God will celebrate 100 years of fruitful Christian ministry next year.
The words of welcome were delivered by Pastor Rolando Boulanger Mogollon, the National Superintendent of the Assemblies of God in Peru, whose church lead the worship for the service. Prayer for the authorities and the country were given by Pastor Christian Scheelje Cossios, President of UNICEP, and his wife.
This year the preaching from the Word of God was provided by Pastor Oscar Suarez Becerra, pastor of the Church of the Nazarene in Comas, and President of the National Council of Evangelicals in Peru. In his message he highlighted the lordship of Christ, the centrality of the Word of God, and the need to be instruments of peace in the current political situation and in Peru which is growing close to its bicentennial celebration of independence.
Pastor Oscar Suarez finished his part with the prayer of Saint Francis of Assisi, "Oh Lord, make me an instrument of your peace. Where there is hate, let me bring love. Where there are offenses, let me bring forgiveness. Where there is discord, let me bring unity. Where there is doubt, let me bring faith. Where there is error, let me bring the truth. Where there is desperation, let me bring joy. Where there are shadows, let me bring light."
The Thanksgiving Ceremony for Peru has been held annually since 2006 and is in compliance with the Supreme Decree 069-2017 that arranges the attendance of the Head of State at the ceremony which is organized by the Evangelical Church as part of the official activities of the National Celebrations. This activity was ratified by the Supreme Drecree 030-2018 which established the presence of the President of the Republic on the 29th of July every year. This year the ceremony was organized by the National Evangelical Council of Peru and the Union of Evangelical Christian Churches of Peru along with other churches.
Source: Nazarene Communications Peru.
Translation: Paul Clark.