GIVING NEW LIFE TO OLD CHURCHES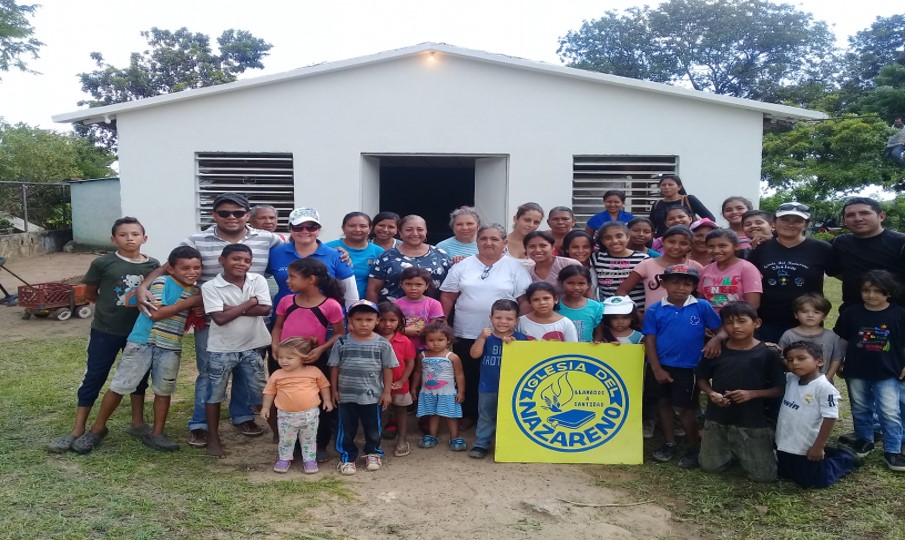 (NCSA Venezuela) The Lago District in Venezuela is seeing an exciting new phenomenon take place.
In the midst of the crisis that the country has been passing through, several old churches from a number of denominations have been closed, abandoned, and left uncared for. This is due to a lack of leaders to watch over the congregations in these churches. In some cases the church buildings have been abandoned for two or even four years.
The vision of the District Evangelism Ministries is to plant new Churches of the Nazarene. Several members of this ministry have been mobilized with the Jesus Film for the parts of the district where there is no Church of the Nazarene, with the hope of opening Blessing Houses (small groups), which in a short period of time will begin a mission type church. It has been amazing to see that several people have opened their hearts to Christ during the process. Steps have been taken to receive permission to use the abandoned churches in the area to start new churches.
This is happening currently in two different areas. The first is in a sector called "La Ranchería" and the second in a sector called "El Estadio." Both are found in the community called "Las Piedras de Perija." In both cases families that have inherited abandoned church properties have authorized the Church of the Nazarene to begin new churches using the facilities.
As a result, this new model is impacting the neighbors and inhabitants of the sectors in great ways. The district has created a Maximum Mission group to work and help restore the church buildings, and to work with the new churches.
A group of young people and adults from the Church of the Nazarene in the Perija Zone have worked passionately in street evangelism along with the District and National Coordinators of Evangelism.
The work begins on a day chosen by the team. In the morning and part of the afternoon, they work cleaning and painting the church and putting the property in order. In the rest of the afternoon they do house to house evangelism with the tools available to them (evangecubes, hats, bracelets, and scarves) and they invite people to a showing the Jesus Film in the evening. All this work has motivated many people who have come to Jesus Film showings, made the decision to follow Christ, and become part of the Church of the Nazarene. Specifically, these two church type missions have begun with 55 and 40 new believers.
The National Evangelism Ministry is very grateful to the Lord for this, and hopes to continue the work everywhere possible, inside and outside this district. This way they will fulfill the mission of "Making Christ-like disciples in Venezuela" and reach their goals laid out in their Vision 2020.
Source: Allan Diaz
Translation: Paul Clark