SOUTHERN CONE NAZARENE THEOLOGICAL SEMINARY GRADUATION 2019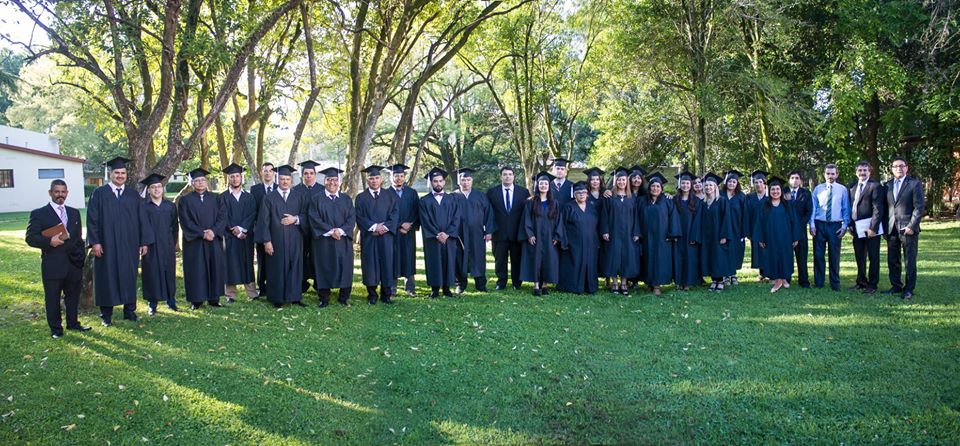 (NCSA Argentina) The class of 2019 graduated from Southern Cone Nazarene Theological Seminary with the backdrop of the centennial celebration of the Church of the Nazarene in Argentina, and with great gratitude for what God has done. The ceremony took place on Saturday, November 16, 2019 at 6:00 PM in the Bruno Radi Convention Center on the seminary campus.
A total of 40 students graduated from the programs: Diploma in Theology, Bachelor's in Theology, and License in Theology.
Reverend Mario Martinez, Nazarene Missionary to Bissau Guinea,  was the special preacher for the event. Reverend Martinez preached an inspiring message from God's Word. Other Nazarene authorities took part in the ceremony including, Jorge Julca, Rector of Southern Cone Nazarene Theological Seminary and Regional Education Coordinator for the South American Region; Rev. Susana G. de Irigoitia, Superintendent of the Argentine Mesopotamic District; Rev. Pablo Tello, Superintendent of the South Paraguay District; Rev. Eduardo Martinez, Superintendent of the North Patagonia District; Rev. Enrique Sardiello, Superintendent of the Argentine Litoral District; and Rev. Marcelo Correa, Superintendent of the Central Argentine District; each of whom participated in the graduation.
The ceremony included worship songs, testimonies from the graduates representing each of the academic programs, congregational prayer of commitment and thanksgiving, the message from God's word, giving of certificates and gifts, and words of encouragement and prayer for the graduates. The event ended with the tradition of cutting the cake and a time of fellowship with everyone present.
The seminary is grateful to God for another class of students graduated in the Southern Cone Field, who have completed this stage of their preparation for ministry with work and dedication and have answered the call from the Lord of the harvest.
The list of graduates is as follows:
DIPLOMA IN THEOLOGY
Cardozo, Norma Jovita – Dist.  Argentine Litoral
Gómez, Alejandra del Carmen – Dist.  Central Argentine Patagonia
Martínez, Marta Ester – Dist. Argentine Central
Rodríguez, Pablo Cesar – Dist. Argentine Central
Rosales, Rosa Gloria – Dist. Argentine Litoral
BACHELOR'S IN THEOLOGY
Amaya, Esteban Roberto – Dist. Argentine Litoral
Amaza, Carlos Benito – Dist. North Patagonia
Anriquez, Cristian Antonio – Dist. Argentine Central
Castillo Román, Camila Carolina – Dist. Central Paraguay
Castro, María de Los Ángeles – Dist. Argentine Mesopotámico
Dulche, Horacio David – Dist. Argentine Mesopotámico
Galarza Caje, Debora Noemí – Dist. Northeast Argentina
Galeano, Lorena Paola – Dist. Argentine Mesopotámico
García, Ezequiel Nicolás – Dist. Argentine Central
Gerez, Raúl Alberto – Dist.  Argentine Central
Lagraña, Elizabet Ángela – Dist. Argentine Central
La Paz, Osvaldo Raúl – Dist. Central Argentine Patagonia
Maldonado, Rubén Darío – Dist.  Central Argentine Patagonia
Murillo Coronado, Giovanna E. – Dist.  Argentine Central
Pepermans, Jorge Eduardo – Dist.  Argentine Litoral
Rojas Talavera, Wilmar David – Dist.  South Texas, USA
Ruiz, Joaquín Emmanuell – Dist.  Argentine Central
Ruiz, Mónica – Dist.  Northeast Argentina
Saucedo, Néstor Daniel – Dist.  Argentine Central
Soria, Ana Priscila – Dist.  Argentine Central
Stoppiello, Cristian Omar – Dist.  Argentine Central
Torres, Mónica Beatriz – Dist.  Argentine Central
BACHELOR'S IN YOUTH MINISTRY
Chavez Ticona, Luis Adolfo -Dist.  La Paz – Bolivia
Machaca Choque, José Arturo -Dist.  La Paz – Bolivia
LICENSE IN THEOLOGY
Avellaneda, José Manuel – Dist.  Northeast Argentina
Díaz, Alejandro Fabian – Dist.  Argentine Central
López, Nélida Rosaura – Dist.  Argentine Litoral
Muniz Colmán, Felix Pedro – Dist.  Colorado – USA
Quinteros, Dora del Carmen – Dist.  Central Argentine Patagonia
Saavedra Carabajal, Nelson S. – Dist.  La Paz – Bolivia
Soto López, Raúl Samuel – Dist.  North Chile
Ticona Chavez, Luís Adolfo – Dist.  La Paz – Bolivia
Vicuña Tarqui, Abraham G. – Dist.  La Paz – Bolivia
Villoslada, Leiba, Misael – Dist.  Argentine Central
Vivas, José Fernando – Dist.  Argentine Mesopotámico
Source: Jorge Julca/Eduardo Velázquez
Translation: Paul Clark